Air Conditioning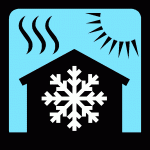 At Clauss Mechanical Systems we take air conditioning very seriously. Our  team of experts can help you with all your air conditioning and cooling needs; we are a "top contractor" for Ruud/Bheem, one of the most highly regarded and largest manufactures of air conditioning and heating systems in the world!
Whether it be simple preventive maintenance, or installing a ductless mini split air conditioner, Clauss is the company for you.

Our friendly technicians are fully certified and trained to diagnose and repair all different types of air conditioning equipment, all makes and models. And for new installations, the owner Jay Clauss will meet with you to provide a free estimate and provide the necessary expertise to meet your air conditioning or heating needs.
Most of our residential air conditioning systems are installed in one day or less!
When it comes to your air conditioning equipment, the far most important thing to do is regular routine preventive maintenance. 70% of all service calls could be prevented through regular routine preventive maintenance.
Ductless Mini Split Air Conditioner Installations
We Specialize in Ductless Mini Split Air Conditioning (AC) Installations!
Clauss Mechanical Systems is a leader in New Jersey and New York City when it comes to installing ductless mini split air conditioning & heating systems.
Our installation department is certified to carry our installs for all the top ductless air conditioner brands out there.
If you are not familiar with it, a ductless mini split air conditioner (AC)  unit is essentially central air conditioning without the ductwork.
These units are extremely efficient when it comes to cooling down spaces.
As you already know Manhattan (and even New Jersey) apartments can be on the very small side and the installation of ductwork can seem nearly impossible to install. These ductless mini split air conditioning & heating units are increasingly becoming more popular.
The benefits of installing a ductless mini split AC system:
The installation is extremely simple.

The unit is so quiet that you won't even know that its operating. The system comes with an indoor blower & an out door condensing unit, which is designed to keep the noisy components outside.

Ductless air conditioning mini split systems are extremely efficient.

You can cool specific areas.

You can have individual zoning at the push of a button.

Less than 5% loss of cooling as compared to the 40% loss of cooling due to leaky air ducts.

These units can be purchased as a heat pump.